on September 17, 2006
Jeremy Luban has received approval for his first SNF grant request. Abstract: Independent genetic screens from our lab and the lab of Joseph Sodroski recently identified TRIM5 as a factor in primate cells that confers innate resistance to retroviral infection.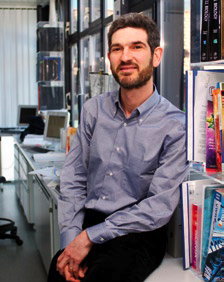 Jeremy Luban
TRIM5 can be thought of as a cytoplasmic receptor that recognizes the complex retroviral core structure encasing the viral genomic RNA, in a CA-specific manner. Along with Fv1, it establishes a paradigm of innate immunity in which an invading multiprotein complex, rather than double-stranded RNA or lipopolysaccharide, is recognized by a specific receptor. Here, using a combination of complementary approaches, the mechanism by which TRIM5 inhibits retroviral infection will be deciphered. In the first specific aim the genetic requirements for CA-specific recognition of retroviruses by human TRIM5a will be determined.These studies will exploit novel biochemical assays for specific recognition of mature virion cores by human TRIM5a. In the second specific aim screens for host factors essential to retroviral restriction by TRIM5a will be conducted using cell clones in which TRIM5a is not sufficient for restriction. Finally, in a directed set of experiments the importance for retroviral restriction of ubiquitin and TRIM5-associated E3 ubiquitin ligase activity will be tested.These experiments will extend knowledge concerning the mechanisms of innate immunity to HIV-1. By doing so it is expected that these studies will contribute to the development of novel approaches for preventing HIV-1 infection and for blocking progression to AIDS in those individuals already infected with this lethal virus.