on April 2, 2019
The phosphatase Shp-2 has been suggested to regulate signaling downstream of NK cell inhibitory receptors, which are essential to calibrate NK cell responsiveness; however, our genetic approaches did not support this hypothesis. Intriguingly, Shp-2 has been shown to positively regulate ERK (extracellular signal-regulated kinase) activation in various tissues. We thus investigated this possibility in NK cells and identified an essential role for Shp-2 in engaging this cascade and raising cellular metabolism in response to interleukin-15, a key cytokine for NK cell development and function. Together, these data reveal a positive role for Shp-2 in regulating NK lymphocytes' cytokine responses and suggest Shp-2 inhibition to be beneficial in selected malignancies originating from these cell types.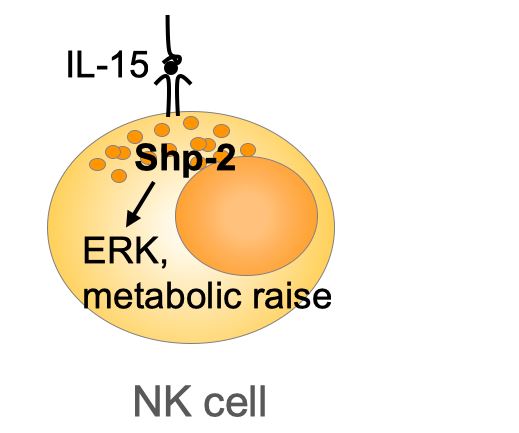 Article
Shp-2 is critical for ERK and metabolic engagement downstream of IL-15 receptor in NK cells
C. Niogret, S. M. S. Miah, G. Rota, N. P. Fonta, H. Wang, W. Held, W. Birchmeier, V. Sexl, W. Yang, E. Vivier, P. C. Ho, L. Brossay, G. Guarda
in Nat Commun (2019) vol. 10 pp1444.