A recent publication in European Journal of Immunology by the Sallusto group analyzed the human T cell response to bacteria of the Enterobacteriacae family.
Enterobacteriaceae are a vast family of Gram-negative bacteria that includes harmless symbionts and potentially harmful pathogens. The latter represents a global health threat being the cause of severe deadly infections, mostly due to the lack of effective vaccines to prevent Enterobacteriaceae infections as well as to the constant increase of multidrug resistant strains. Recently, carbapenem-resistant Enterobacteriaceae bacteria have been included in the list of antibiotic-resistant "priority pathogens" by the WHO. Although several studies have investigated the human T cell response to commensals and pathogens, a characterization of Enterobacteriaceae-reactive CD4+ T cells in terms of phenotype, antigen specificity and TCR repertoire composition in physiological and pathological conditions remains elusive.
In this study, the team of researchers from the Institute for Research in Biomedicine (Università della Svizzera italiana) and the Institute of Microbiology (ETH Zurich) combined several experimental approaches, including sequential antigenic stimulation of memory T cells, antigen-specific priming of naïve T cells, single T cell clone generation and high-throughput TCR-Vb sequencing, to dissect the CD4+ T cell response to multiple Enterobacteriaceae species in healthy individuals as well as in patients suffering from K. pneumoniae systemic infections.
They found that in the blood of exposed individuals Enterobacteriaceae-specific memory CD4+ T cells are enriched into the Th1*/Th17 helper subset, whereas this T cell subset result severely reduced in septic patients who also selectively lack circulating K. pneumonie-reactive T cells. Importantly, the researcher could also show that the major component of the memory T cells repertoire is broadly cross-reactive against different Enterobacteriaceae species and selectively expanded in the blood of exposed healthy individuals. Interestingly, these broadly cross-reactive T cells are also found in the naïve T cell repertoire. Finally, they identified the conserved outer membrane protein A (OmpA) antigen as a target of a large fraction of broadly cross-reactive T cells.
Collectively, this study points to the existence of immunodominant T cell epitopes shared among different Enterobacteriaceae species and targeted by cross-reactive T cells that are readily found in the pre-immune repertoire and are clonally expanded in the memory repertoire. Overall, this research provide a better understanding of the human immune responses against Enterobacteriaceae and give insights for the development of new strategies for prevention of severe Enterobacteriaceae-infections.
This work, published in the "The European Journal of Immunology", was realized in collaboration with researchers from Istituto Superiore di Sanità (Rome, Italy) as well as with clinicians from University of Pisa (Pisa, Italy) and from Sapienza University of Rome (Rome, Italy) and with the EOLAB, Ente Ospedaliero Cantonale, Bellinzona. The study was financially supported by the European Research Council, the Swiss National Science Foundation, and the Helmut Horten Foundation.
Article
Broadly reactive human CD4(+) T cells against Enterobacteriaceae are found in the naive repertoire and are clonally expanded in the memory repertoire
Cassotta, A. Goldstein, J. D. Durini, G. Jarrossay, D. Menozzi, F. B. Venditti, M. Russo, A. Falcone, M. Lanzavecchia, A. Gagliardi, M. C. Latorre, D. Sallusto, F.
in Eur J Immunol (2020): DOI: doi: 10.1002/eji.202048630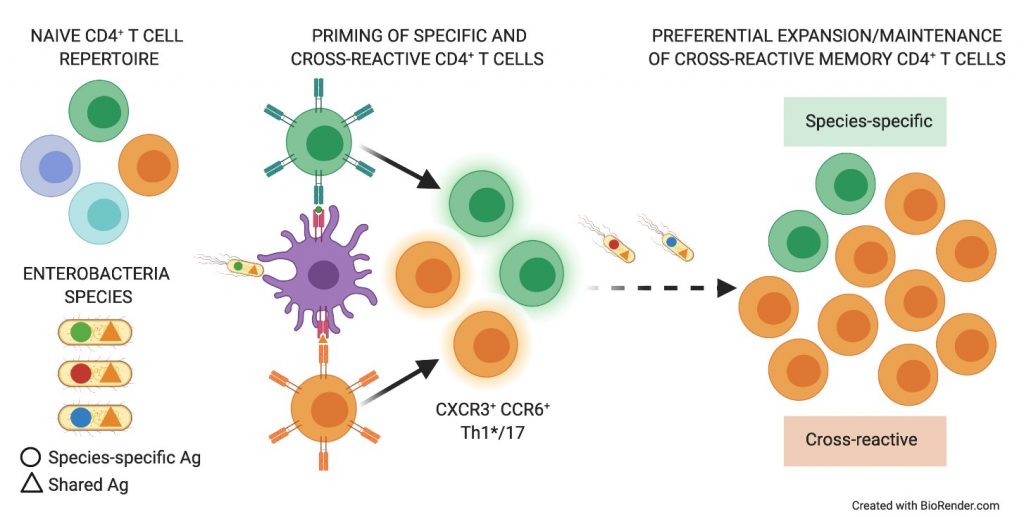 Specific and broadly cross-reactive CD4+ T cells against Enterobacteriaceae are present in the naïve pre-immune repertoire and become dominant in the memory repertoire. Enterobacteriaceae-reactive memory Th cells are highly enriched in the CCR6+CXCR3+ Th1*/17 cell subset.