on November 17, 2006
Friday 17 November at 19:30 the IRB will host the second Musica e Molecole concert in the atrium of the institute. Following the successful first event held in June and focused on Jazz, the second "Musica e Molecole" will feature the contemporary music of Karlheinz Stockhausen, performed by Fabrizio Rosso and Pietro Luca Congedo. The idea of the Musica e Molecole events is to welcome friends and neighbors into the institute and provide them with access to the unique culture of learning and discovery that thrives here. Often science appears overwhelming and complex to the nonscientist, as music does to the non-musician, and yet both endeavors respond to basic human instincts.
The idea of presenting contemporary experimental music for the second event comes from a desire to test the basic idea that an eloquent musician can help us access complex music, much the same way as an eloquent scientist can walk us through complex science.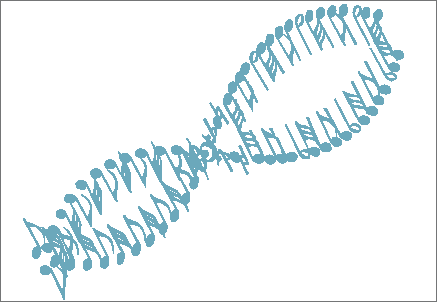 Logo of the event
Fabrizio Rosso – Electronics and Sound Direction. Fabrizio studies piano,composition and electronic music. He received diplomas from the conservatories of Turin, Zurich and Lugano where he currently teaches. As a student and collaborator of Karlheinz Stockhausen, Fabrizio is an active performer and composer. He is currently studying mathematics at the University of Turin.
Pietro Luca Congedo – Percussion Born in 1977 in Legnano, Congedo began studying music at the Conservatory of Trapani. In 2001 he entered the Conservatory of Southern Switzerland where he studied under M. Mircea Ardeleanu. Since 1998 he has participated in the International Ferienkurse in Darmstadt where he was also honored to perform the opening concert in 2004.As a member of the Lugano Percussion Group he has toured Switzerland, Italy, Germany Brasil and Romania. Congedo has collaborated with the Ensemble Ars Ludi e Ready Made Quartet deepening his understanding of minimalist authors. In 2004 he was awarded the first prize, for his execution of Stockhausen's Schlatrio at the summer school in Cologne.
More on the music of Stockhausen in the next issue of IRB news.