on July 17, 2006
Work has begun on the transformation of an abandoned gardening store into a state-of-the-art research facility and P3 laboratory. The need for specialized laboratory space has been critical for some time, and expansion was identified by the Scientific Advisory Board as "of strategic importance" during their review of the IRB in the fall of this year. The Helmut Horten Foundation, sensitive to the role this new facility will play in the future of the IRB, has made a generous commitment to the project. The city of Bellinzona has also expressed vital support of the new facility in via Murate as part of the long-term development of a "Research Campus" in Bellinzona. Early in 2006 the IRB Foundation Council took on the challenging task of finding a new location when initial plans to restructure the Gallera Building were deemed prohibitively expensive.Many options were explored including green-field sites or existing structures. After a lengthy search, the ex-Coop "fai da te" store, only a short walk from the IRB, was chosen.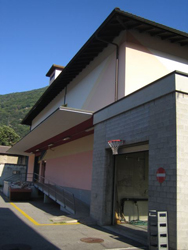 Front view of the building
Local engineer and builder, Gianfranco Ghidossi, who will transform the building according to IRB needs, owns the building. Dr. Fabio Grassi has been deeply involved in the project, identifying the needed equipment and suppliers, and coordinating IRB efforts.The warehouse style structure of the ex-Coop makes it an ideal choice to house the complex machinery and systems involved in the sterile facilities and P3 laboratory space.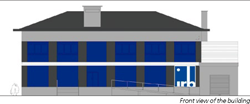 The Planned Facility.
-1 The basement will contain a large storage area and P3 lab, and a kitchen as well as refrigeration, heating and other technical infrastructure.
0 The ground floor will house two large rooms for specialized cages, two small labs, and the necessary autoclaves, washing rooms and quarantine space to ensure a sterile environment. What was once a carwash attached to the building will be converted IRB – via Vincenzo Vela Air view into a storage facility for liquid nitrogen and oxygen, a steam plant for the whole building and a loading dock.
1 The first floor will be dedicated entirely to lab space.
2 The second floor, which is under the eaves of the roof, will include office space, a kitchen and conference room. Work is scheduled to be completed in the Spring of 2007.