on October 17, 2006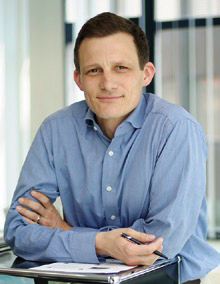 Dr. Markus Manz
HIV infection A vital tool in the study of HIV developed at the IRB has been validated in collaboration with the University of Zürich.
HIV, the virus that causes AIDS, only infects humans. This human-specificity of HIV is a major obstacle to the study of potential treatments or vaccines, essentially limiting tests to either in vitro laboratory experiments or actual clinical trials. The missing link between the laboratory and the clinic has been a pre-clinical animal model in which to verify vaccines or therapies before tests are run on human patients.
Dr. Markus Manz of the Institute for Research in Bellinzona has developed a method to overcome this obstacle by providing, for the first time, an accurate animal model for the study of human specific viruses in a controlled pre-clinical setting.
The importance of this method to HIV research has now been validated by a study performed in collaboration with the laboratory of Dr. Roberto Speck, Division of Infectious Diseases at the University of Zürich, and published today in the Proceedings of the National Academy of Sciences.
Together with Dr. Stefan Baenziger this work shows how the new model can be used as an effective pre-clinical test for HIV.The Swiss National Fund supported the project.The University of Zurich will continue with this work on HIV in collaboration with the University Hospital of Zurich.
A project to further improve the model, especially with respect to the evaluation of vaccine candidates is being carried out by the group of Dr. Manz in Bellinzona and the group of Prof. Dr. Richard Flavel of Yale University, in the US. Entitled " A Mouse Model to Evaluate Live Attenuated Vaccine Candidates " the project is one of 14 Grand Challenges in Global Health funded by the Bill and Melinda Gates Foundation.
How it works: Immune deficient mice are injected with human blood forming stem cells leading to the development of a human immune system in the mouse including the formation of lymph nodes.These mice are then prone to human-specific viruses that target the immune system such as HIV, resembling the infection in humans.